Conquest of the Coastlands has been a lot of fun to work on. It's basically an educational role-playing game, I'd recommend reading about how they fuse the role-playing elements with the educational elements on their website,
here
.

I was asked to provide the in-game music for the project. The harmonic language is quite simple, I used a few secondary dominants, but the usual I, IV, V, vi, III, ii (no vii of course) chords appear all over. The chord progressions move pretty slowly as the instruments work through patterns for some time before moving to another chord. This always helps establish a nice atmospheric vibe. The score is fully orchestrated and features a lot of decorative harp sections. I even had the opportunity of using a Bansuri with some cool musical 'turns' for a nice and smooth tribal feel for the temple track.

The game is currently in development, but it shouldn't be too long until its release. It was a pleasure working on the project as everyone was prompt and professional with their feedback and input.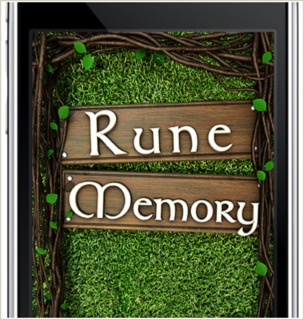 Rune Memory
is set in a relaxing 'celtic' garden. The music was a lot of fun to write, as I had to do some research about the characteristics of celtic music. The meter is 3/4 and features the mixolydian mode (the major with the lowered 7th scale degree). I made sure to pick chords that feature the distinctive lowered seventh note in order to give it a convincing celtic character.

The instrumentation features the harp as the main melodic instrument and full string and brass section for cinematic sections of the track. I also added a touch of bagpipes. I hope you enjoy the game and the music, it's available in the
app store now
!
[Sleeker_special_clear]