Characters is a dialogue with Jean Dubuffet's le ronde des images -- on view at the National Gallery of Art in DC. I find Dubuffet's work fascinating in general, but here the effect achieved by contrasting character portraits and textures was an important reference for the primary musical concept. The music is built structurally and thematically as a collage. The themes, or characters, are short, playfully twisted ideas that are developed throughout the work into ever-changing textures.

The first four bars are a brief look ahead at the harmonic and structural building blocks of the piece. In the first three bars, the piano executes a two-part chordal descent in Mode 2, as the bassoon, clarinet and trumpet introduce our first thematic character. In bar 4, the primary chordal structure of the piece is introduced. In the lower register the Eb and Bb open fifth foundation is countered by an E major chord in the upper register.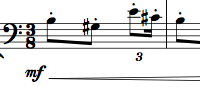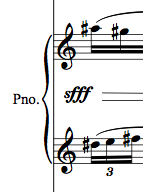 This chordal construction can be heard in Debussy in his Pelleas et Melisande, Golaud's theme. As well as in Ravel's Daphnis and Chloe and Stravinsky's Rite of Spring. The harmony of the piece is based on Messiaen's symmetrical modes of limited transposition. Modes 2 and 3 make especially frequent appearances.

The three characters are also introduced in these first four bars and their development carries on throughout the piece. There are a number of places where the different sections of the orchestra are 'playing different music.' At rehearsal M for example, the piano is playing a harmonic ostinato in Mode 3 while the bassoon's melody is in Mode 2. These dissonant and packed textures are contrasted with more rhythmically stable and harmonically coherent sections.

Rhythmically, the piece incorporates a number of rhythms inspired by the incredible Hindu 'deci-talas -- something Messiaen used extensively in his work and introduced them to students of composition is his Treatise on Rhythm, Color and Ornithology. Characters is yet another step towards rhythmic freedom.