Welcome to the scroll-introduction to my concert work. My space for research, development and expression. Influences behind this page are Olivier Messiaen, whose treatises on composition have changed my understanding of music, and Justin Dello Joio, my former composition teacher at NYU.
Characters for Chamber Orchestra
Premiered by Inscape Chamber Orchestra on May 18th, 2014
Characters is a dialogue with Jean Dubuffet's le ronde des images -- on view at the National Gallery of Art in DC. I find Dubuffet's work fascinating in general, but here the effect achieved by contrasting character portraits and textures was an important reference for the primary musical concept.

The music is built structurally and thematically as a collage. The themes, or characters, are short, playfully twisted ideas that are developed throughout the work into ever-changing textures. To be premiered by Inscape on May 18th.


Seed for String Orchestra
Recorded by Macedonian Radio Symphonic Orchestra
In Seed, a short musical fragment, first heard in the opening bar, is developed into each texture. The work is driven by Hindu rhythms (deci-talas, the main theme is based on no. 53, sama) and symmetrical modes, especially Messiaen's Mode 3. Though the theme is often stated in its transformed form, its character -- which draws on the captivating clashing minor and major thirds feel -- binds the textures.
The spark for the piece was a short comment by Messiaen during the analysis of his own Turangalîla Symphony. It translates roughly to "as is the case in many classical pieces, the theme is much less interesting than its development." (Page 235, Tome II of Treatise on Rhythm, Color and Ornithology) The comment helped me focus on the various developmental ideas present in the piece.


Character for Solo Cello
Premiered by Tim Thulson on June 8th, 2014
Atlas Performing Arts Center, Wash. D.C.
Character for Solo Cello
features a concise development of a theme that I came across during the composition of
Characters
, a recent piece for chamber orchestra. This little melody serves as the main source of every texture, every variation. The theme has a peculiar quality that I love, its stylistic flexibility allows for expressive interpretation during performance. Harmonically, the piece calls on on symmetrical modes, especially Messiaen's 3
rd
mode of limited transposition.
In Three Dances, playful themes are used as structural building blocks for more complex harmonic and rhythmic textures. The quasi-folk character of the themes unites the pieces even as the themes become more absorbed and obscured in the textures.

Three Dances were inspired by Messiaen's Analyses of the Piano Works of Maurice Ravel and Tome VI of Treatise on Rhythm, Color and Ornithology, which is dedicated entirely to analysis of Debussy's music -- the first two of Messiaen's books I came across.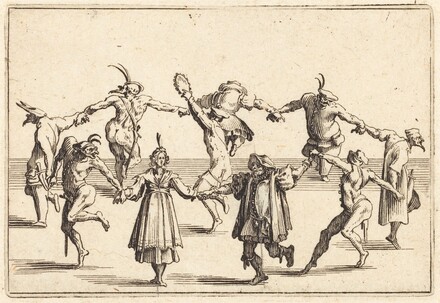 Callot, Jascques. The Dance. c. 1622. etching. French, 1592-1635. National Gallery of Art.